Embassy of India, Warsaw
Fact Sheet on Poland
Map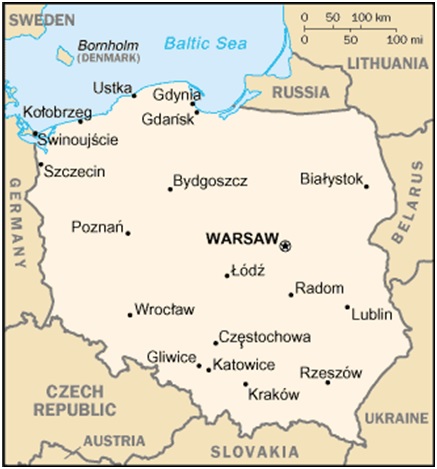 Flag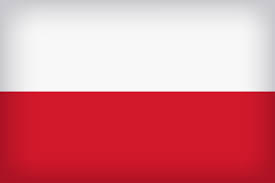 Correct name of dignitary:
Mr. Andrzej Duda, President of the Republic of Poland
(श्रीअंदज़ेयदूदा, राष्ट्रपति, पोलैंडगणराज्य)
Mr. Mateusz Morawiecki, Prime Minister of the Republic of Poland
(श्रीमातेऊषमोराव्येत्स्की, प्रधानमंत्री, पोलैंडगणराज्य)
Correct pronunciation of the country: Poland (पोलैंड)
Correct pronunciation of the Capital city: Warsaw (वार्सा)
The continent in which it is located: Europe (यूरोप )
Form of Government: Parliamentary Democracy
Geographical location in the continent: Central Europe
Placement of the country in the map:Latitude 52º north of the equator, Longitude 20º east
Total population of that country: 38.43 million (2018)
Official language. Does the visitor know English? Polish (Spoken by 96.9% of population). Yes, fluently.
Will the dignitary speak in English or in his own language? :
Will speak in English.
Name of our Head of Post, his batch and since when he/she is posted there: Shri Tsewang Namgyal, Batch – 1992, since 19 April 2018
A small note on some prominent quality/specialty of that country:
Polish 'resilience' could be described as its most dominant characteristic. It transitioned from a State-led, coal & mining-based economy in the late eighties to a strong, progressive, dynamic and ambitious country by mid-2000s, sometimes described as a 'lone star' in the EU due to its persistent GDP growth of over 4%, even during the global slowdown of 2007-8. It now boasts of GDP growth rate of 5.1% in 2018, a global ranking of 33 in the 2018 'Ease of Doing Business' and a rapid 're-industrialization' strategy that is aimed to further strengthen its economic heft in the region. Its location as a buffer State between the East and West blocs, which had hitherto caused it great loss and suffering during the World Wars and later, has now evolved as its greatest strength, as it is positioned to serve as a nerve centre or logistics and manufacturing hub between Asia and Europe, with its relatively low operating cost, being its most prominent appeal for global companies.
Problems faced by the country:
Series of reforms initiated by ruling PiS party-led government in judiciary, constitutional court, police, media, education, healthcare, bureaucracy and others have led to protests by opposition parties, civil society groups and EU over suppression of freedom, democracy and rule of law in Poland.
Defiance of EU policy on contentious issues such as migration and independence of judiciary, straining its relations with EU and likely to diminish its influence in the EU bloc. EU has triggered Article 7 proceedings against Poland on its rule of law concerns in Poland and referred Poland to the EU Court of Justice for a law that forced Supreme Court Judges into early retirement.
Outdated infrastructure and reliance on EU funds for major infrastructure development.
Persisting problem of flight of skilled professionals to prosperous Western European economies such as the UK and Germany, leaving a skills deficit in the country. Poland faces a huge shortage of skilled/semi-skilled manpower.
Polish dissatisfaction that, despite being a manufacturing base of many products for Western European countries in its region, Polish products lack the global brand image which is due to them.
Still a Euro-centric economy with more than 70% of its global trade engagement confined to the European region (though now it is looking to engage more globally, including with India).
Increasing restrictions on carbon emission norms under 2030 European climate and energy goals affecting the profitability of its large coal and mining companies, which have been the backbone of the Polish economy since decades. This is also increasing the power cost for energy intensive sectors such as steel.
Polish agriculture sector affected by the size of its small land holdings and lower soil productivity, as compared to the EU average.
Name of major tourist spots:
Warsaw - Royal Castle; Wilanow Palace; Lazienki Park; Warsaw Uprising Museum,
Krakow - Wawel Castle; Auschwitz Concentration Camp; Wieliczka Salt Mine
Gdansk – Westerplatte; European Solidarity Centre
Zakopane - Tatra Mountain (Morskie Oko Lake),
Any famous monument/location in the country:
Westerplatte, Gdansk [starting point of World War II]
Auschwitz Concentration Camp [Nazi camp for Jewish prisioners]
European Solidarity Centre, Gdansk [museum and library devoted to the history ofSolidarity, the Polishtrade unionandcivil resistancemovement, and other opposition movements ofCommunist Eastern Europe]
Names of major cities:
Warsaw, Łódź, Krakow, Wrocław, Poznan, Gdansk, Szczecin, Bydgoszcz, Lublin, Katowice
Bilateral Trade (2018; Indian statistics):
Total – US$2,315 Million
Export from Poland to India – US$791 Million
Import from India to Poland – US$1,554 Million

Items imported from Poland: Steel, metalifier ores and metal scraps, transport equipment and Machinery.
Items exported from India: Tobacco, processed minerals, chemicals, rubber, plastic, machinery, drugs, transport equipment, and ready-made cotton garments
Population of Indian Diaspora: Estimated 10,000. Indian origin population constitutes about 0.25% of the total population of 38 million.
Out of total Indian population, how many are PIOs and how many are NRIs: 2500 PIOs; 7500 NRIs (including 4000 students)
Achievements of Indian diaspora: The Indian community in Poland consists of traders (textiles, garments and electronics) who came after the collapse of communism, and professionals with multinational or Indian companies and software/IT experts. There are nearly 100 Indian restaurants in Poland and about 60 in Warsaw. The community has formed three India-centric business chambers [Indo-Polish Chambers of Commerce and Industry (IPCCI), Western Pomeranian Indian Chamber of Commerce & Poland-India Business Council (PIBC)]
Names of big Indian companies/banks, if any: ArcelorMittal, Videocon, Escorts, Strides Arcolab, Ranbaxy, Essel Propack, KPIT Cummins, Zensar Technologies Ltd, Tata Consultancy Services, HCL Technologies Ltd, Infosys and Wipro, Jindal Stainless, Berger Paints India, UFLEX and Glenmark Pharmaceuticals, Rishab Instruments (acquired Lumel) and CRISIL.
Any special thing/location/monument/statute related to India in that country:
Gandhi's bust (Warsaw University Library) & Embassy Complex.
Monument commemorating Jam Saheb Digvijaysinhji Ranjitsinhji Jadeja of Nawanagar at the Square of the Good Maharaja, Ochota District, Warsaw.
Three streets in Warsaw are named after Indian leaders - Mahatma Gandhi, Jawaharlal Nehru, Indira Gandhi and RabindranathTagore. Krakow and Lodz also have streets named after Mahatma Gandhi.
Shiva Statue /temple, Czarnow, Kammiena Gora
Attitude towards India/Indians: Warm, positive and very friendly [There is immense interest in Indian culture, tradition including learning Hindi, Tamil, Bengali and Sanskrit. There are more than 30 dance classes teaching Indian classical and contemporary dance. Poles are very fond of Indian cuisine and Bollywood movies. There are over 100 Indian restaurants across Poland. Many Bollywood films are premiered in Warsaw, Krakow & Gdansk. As per a study, 300,000 Poles are regular practitioners of yoga. There are about 1000 Yoga Schools and around 8000 yoga teachers in Poland.]
****
August 2019