भारतकाराजदूतावास, वार्सा
Embassy of India, Warsaw
Fact Sheet on Lithuania
Map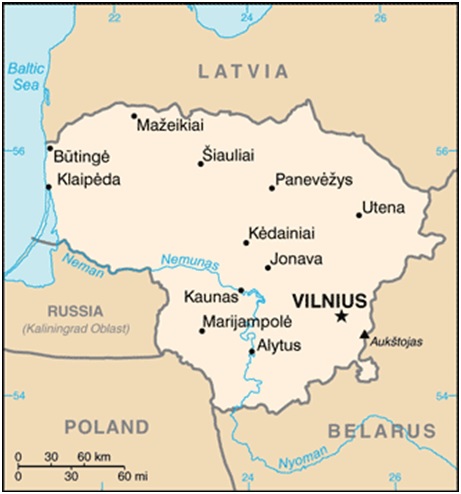 Flag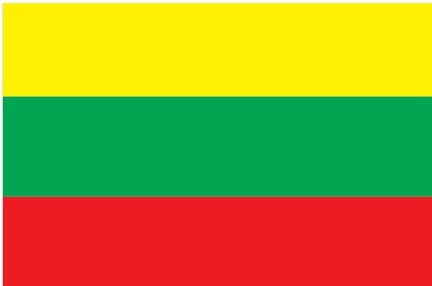 Correct name of dignitary:
Mr. GitanusNauseda, President of the Republic of Lithuania
(श्रीगीतानसनौसेड़ा, राष्ट्रपति, लिथुआनियागणराज्य)
Mr. SauliusSkvernelis, Prime Minister of the Republic of Lithuania
(श्रीसौलुसस्कवेर्नेलिस, प्रधानमंत्री,लिथुआनियागणराज्य)
Correct pronunciation of the country: Lithuania (लिथुआनिया)
Correct pronunciation of the Capital city: Vilnius (विल्नियस)
The continent in which it is located: Europe (यूरोप )
Form of Government: Parliamentary Democracy
Geographical location in the continent: Central Europe
Placement of the country in the map:Latitude 56º north of the equator, Longitude 24º east
Total population of that country:2.85 million (2016 estimates)
Name of our Head of Post, his batch and since when he/she is posted there: ShriTsewangNamgyal [IFS 1992], Ambassador to Poland since 20 April 2018, is concurrently accredited to Lithuania.
A small note on some prominent quality/specialty of that country: Lithuania is a small but important country in the Eastern Europe, with growing economy and a high ranking in ease of doing business. It is a member of the EU, Schengen zone, Eurozone as also NATO. It has niche technologies in electronics, lasers, food processing and IT. It is a member of the three of the four multilateral export control regimes (NSG, Australia Group and Wassenaar Arrangement). It has been exporting agricultural products – wheat and green peas – to India. It is supportive of our campaign against terrorism and support India's position on J&K. It shares cultural affinity with India – some 10,000 words in Lithuanian language have roots and derivatives in Sanskrit language. The Lithuanians also practice Gandhian philosophy of peaceful resistance, evident in the 675 km long Baltic human chain formed on 23 August 1989 by over 2 million people from the three Baltic states of Lithuanian, Latvia and Estonia.
Problems faced by the country: The country is dependent on NATO for its security, which has since deployed a multinational battalion in Lithuania and also runs a Baltic air policing mission. Its population is fast decreasing (16% since 2004), with high rate of emigration – nearly 170,000 Lithuanians are in the UK facing uncertain future following Brexit, causing concern to the Lithuanian government. About 900,000 Lithuanians (25% of its population) are living abroad. The country has launched a new initiative 'Choose Lithuania!' to bring emigrants back to the country. It is also trying to solve the issue of dual citizenship, currently not permitted by Lithuania. High rates of suicide and alcohol addiction are also two major societal concerns, for which the new Parliament has constituted special commissions. Corruption in higher places, high prices and growing inflation are other major concerns, though its economy has registered a high GDP growth (4%) during the first half of 2017. The Lithuanians are very critical of the Astravets nuclear power plant being built in neighbouring Belarus, just 50 kms from the Lithuanian border. The Lithuanian parliament has declared the plant as a threat to its national security, environment and public health. The outgoing President Grybauskaitė, has pointed out that negative attitude by the Government's controversial decisions and statements were responsible for a significant drop in investors' confidence in Lithuania.

Name of major tourist spots:
Vilnius, Kaunas, Trakai, Lithuanian Seaside.
Any famous monument/location in the country:
Trakai island castle;


Gediminas tower in Vilnius;


Curonian Spit;

The Hill of Crosses;


St. Anne's Church.
Vilnius, Kaunas, Klaipeda, Siauliai, Panevezys
Bilateral trade:Total Trade –US$ 311.64 Million
India's Import from Lithuania – US$ 190.96 Million
India's Export to Lithuania – US$ 120.68 Million
Items imported from Lithuania: green peas, plastics and articles thereof, wadding, felt and nonwovens, optical, measuring, precision, and medical instruments, wood and articles of wood, electrical machinery and equipment
Items exported from India:Fish and other aquatic bodies, animal fodder and waste from food industries, footwear, edible fruit and nuts and pharmaceuticals.
Population of Indian diaspora:


65-70 Lithuanian citizens of Indian origin;


750-800 students in Lithuania;
Out of total Indian population, how many are PIOs and how many are NRIs:There are approximately 100 PIOs and about 900 NRIs (mostly students).
Achievements of Indian diaspora: The Honorary Consul of India in Vilnius is highly well-connected with the Lithuanian polity and influential policy makers. He has been promoting Indian cuisine and bilateral cultural exchanges with significant success. An Indian swami has also been propagating Yoga and Ayurveda in Lithuania.
Names of big Indian companies/banks, if any:


Indorama group in Klaipeda.


Cognizant regional office in Vilnius.


In December 2018, Indian Company HCL technologies had entered into partnership deal with Barclays' for handling IT infrastructure services and, as part of this arrangement, nearly 460 employees of the Barclays' Operations Centre in Lithuania would be transferred to HCL.


Any special thing/location/monument/statute related to India in that country:


A sculpture of Mahatma Gandhi and his Jewish-Lithuanian architect friend Hermann Kallenbach in the town of Rusnė in western Lithuania


Hindi & Sanskrit plaques of the Užupis Republic constitution in Vilnius


A village and a mound called India in Western Lithuania


Attitude towards India/Indians: Very warm and friendly. There is lot of interest in Indian culture, tradition, literature and yoga & Ayurveda. Sanskrit became part of the academic curricula of the Vilnius University in the 1970s. Some 10,000 words are common between the two languages. 13 hymns of the Rig Veda was translated into the Lithuanian language. Indology studies continue at the Oriental Centre of the Vilnius University. Lithuanians love Indian cuisine and are fond of Bollywood movies and Indian classical and contemporary dances. Growing interest in Yoga has been seen during last five IDY celebrations. The 5th IDY was held in Vilnius on 20 June 2019.
*****
July 2019